Friday, January 18th begins as a normal day in Tirana. After working a while, I meet my friend and we start our drive to Gjirokastra. Since we have not had much time to talk in a while, we enjoy the opportunity to catch up and time passes easily. We stop for a meeting in Fier and continue an uneventful trip past Tepelena to reach Uji i Ftohtë (Coldwater), named thus for the cold springs that flow out of the mountains. As we try to get going again after lunch, a little after 3 o'clock in the afternoon, a police officer informs us that the road is blocked by a landslide a short distance ahead of us.
The whole area has seen a lot of rain over the last several days, the earth clinging to the mountainsides is waterlogged, and a mudslide is not that unexpected. The key pieces of information we are missing: the large size of this landslide and the time it will take to clear. We decide to wait! Nearly two hours pass before we see a bulldozer go by. Time estimates vary widely and there is no mention of the event in the various news channels. As we debate whether they can even work properly to clear the road in the dark, time slips by and we backtrack to find a hotel for the night.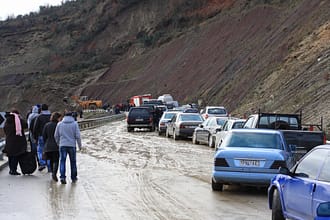 In the morning, we arrive at Uji i Ftohtë and settle to wait again in the restaurant where we stopped the previous day. By some quirk of chance the only empty table is the same one we occupied for hours the previous day, and people we recognize from the previous day seem to experience mild déjà vu upon seeing us. It takes several more hours before one lane is finally opened through the landslide, and traffic is allowed to proceed shortly before noon on Saturday, January 19th.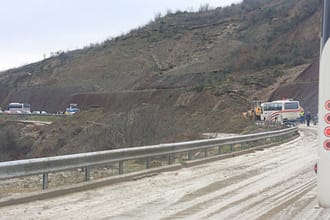 As we drive on to our destination, to meet students and volunteers from BSKSh, we thank God for each-other's good company that turned what could have been a miserable wait into a pleasant sojourn, and for the technology that allowed us not only to keep others from worrying, but also to use the time productively. Looking forward to meeting friends in Gjirokastra, we are still left with unanswered questions: What would it take to clear the landslide faster? Would it have been so difficult to come up with correct estimates for the duration of the blockage? Could the 24-hour news channels inform the public so that people travelling by bus would not suffer a cramped, 20-hour wait on top of their cramped, 12-hour ride?