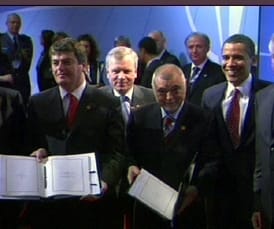 Finally, Albania and Croatia are now a full-status members of NATO. The much awaited day has come and people can feel good about it. The invitations were issued by the U.S.A. president Barack Obama and were signed by the Albanian President Bamir Topi and the Croatian one – Stipe Mesic.
However, as I write about this major event for the whole country I don't feel that I want to add any more comments and thoughts than what I've done in a previous post Improving Prospects:
Personally I think it is about time that we joined. And I say this not so much as a sign of the achievements of the current government, but first and foremost for the people of this country. As regards the current political class, there is great disappointment. However, such developments do bring about a renewed hope and a fresh awareness that things will improve in some form or fashion. Much has to be done, and Albania has still to face up to the illness of corruption and many other important issues affecting its people.