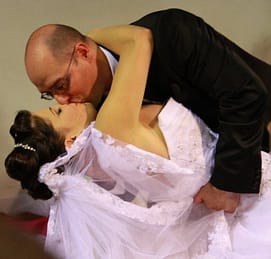 On May 29, I got married to the love of my life. Thankfully, the whole ceremony went just wonderfully and we were so glad to see so many friends and guests join us on this unique occasion. Before that day, the entire month was rather stressful with lots of different preparations to get everything ready for the big day. And now that it is over, I can say that it was all worth it.
Even before we started working on the details, my wife and I wanted to go for a modern (church) wedding ceremony rather than the traditional Albanian version. That meant that we would change the format and focus of our wedding from the main traditional dinner where everyone gathers to gourge themselves on food and drinks till the early hours of the day, to a well organized church ceremony followed by a cocktail at the end. The result was ideal. At least that is what all the comments that we've gotten said.
The decision for a more modern ceremony was mostly because it was practical and rather easier to manage. Right off the first day that we told or respective families about wanting to get married, we explained to them that we would be managing the whole thing ourselves. Basically, we would want to spear them the organizational burden but seek their help with inviting the people that they wanted and then show up on the day of the wedding ceremony. This was not our way of getting them out of the way, but rather a more "modern" way of organizing an Albanian wedding, which is quite different from the traditional versions.
And so it happened. Thanks to the wonderful support of our dear friends who assisted us in everything from choosing the bride's dress to picking up the candles and moving the chairs at the venue, everything was organized and set up for the day of the wedding. Obviously our parents were aware of some of the organizational details but for the most of it, the wedding was organized and managed with our friends and in the end it came out beautiful.
The Traditional Albanian Weddings and Cultural Traditions
The way most weddings go in Albania is through a rather intricate web of traditional procedures and cultural procedures starting with the couple's engagement and then a host of other things leading to the actual wedding dinner celebration. For historical and practical reasons the way weddings are done in Albania has its roots in the very close way Albanian families are built. This then plays out in the traditions and cultural heritage that is passed on to the new couple where each family tries to establish its own regional and particular set of traditions.
The center of it all is the new couple, whom now has to figure out a way to deal with the new responsibilities of working out how to live with each other and each other's family obligations.