Like other such initiatives in many countries around the world, tech enthusiasts gathered on 12 July to start a new community under the banner of OpenLabs – an newly registered NGO dedicated to technology and unrelated to politics, as one of its founders – Redon – was so keen to point out in contrast to most other NGOs in the country.
We are a non-government non-profit organization, based in Albania, that aims to support and promote initiatives which provide tools that bring knowledge closer to those more in need.
I would not have heard or attended the event if it would have not been for a good friend of mine whom shared the info on FB, but most importantly was kind enough to call me about it.
Being a tech enthusiast myself, such events are always things I try to attend. The last one I went to was called "Startup Week" which turned out to be an eye opener as to the trends that, young entrepreneurs like myself, are looking at developing in the future.
Getting to the venue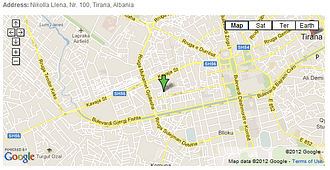 The first puzzle of this tech meet up was finding the location of the venue. The Google maps coordinates were great as otherwise Tirana is very hard to navigate once you have to go into narrow nameless streets where most doors do not even have numbers on them. (this one did have both a name and a number)
To my nostalgic surprise, it was an old one-story house in the middle of tall buildings and narrow streets. The yard was nice with old, slightly maintained and painted walls, several trees, wooden DIY benches and tables, beer and young people, most of whom I did not know!
The inside of the house looked very old as well but had techy and artsy touch ups to convey the idea of cool and interesting, which it was. The organizers had put much effort into getting the place in shape for whatever activities and plans they had for this thing to work.
The organizers and presentations
First, I cannot help but point out the fact that the meeting took forever to start. It took over one hour to even get the projector working and the presentations ready, but eventually the meeting did start and so did the presentations.
As I mentioned, I did not know most of the people at the event, but those few whom I knew, helped me learn a bit more about whom everybody else was.
As I learned there and through their website, Dorjan Gjoni, Redon Skikuli, Edia Aliaj, Kamela Kondili and Rolanda Deda were the founders of this initiative.
At the event, the initiative was presented by three main people; an Albanian, an Italian and a Greek one.
The first one, Redon Skikuli (one of the founders), whom later I recognized as one of the people behind 1Up.al a respectable marketing & interactive services company, was the first to open the meeting and present the main ideas for the initiative.
I am sure he had put a lot of thought, effort and time into organizing everything, but judging from his slides and his not-so-eloquent speech, it was hard to get excited about what would happen, but at the same time I was all for the ideas being presented.
The second presenter, a Greek guy named …, I had never seen or heard of before talked about experimental open labs where people could start inventing things by using any tool available.
The third presenter was an Italian guy by the name of Luka who had been living in Albania for eight years. He introduced himself as an IT guru meanwhile talked about a Google supported open hardware program.
In Conclusion
Most importantly, it was the start of another initiative which I am sure will provide its contribution to spur technology and innovation on in Albania.