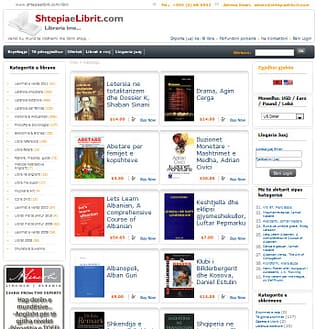 This is the fifth year since my business partner, Gjergj, and I started what has now become the premier online Albanian bookstore – ShtepiaeLibrit.com (Albanian House of Books). Still, we are faced with the ever present challenge of conveying to our local and international customers our reliability and trustworthiness as an Albanian business!
In fact, the challenges of serving a global market, based in Albania, are greater and it does require a good measure of patience as well as trial and error to figure out what works best in most situations. However, for us, these challenges are welcome in that they allow us to establish our own rules by virtue of being leaders in this sector and also creating many comparative advantages in the local and international market as well.
Upgrading the core ecommerce system
In March, we had to carry out a hasty upgrade of our core ecommerce system to a new and much more effective one. There were several major reasons why it was hasty but the most important thing was about enabling our visitors and customers to utilize the information and services of the website at a greater level of efficiency than before. The upgrade meant an almost whole week of long-hours of intensive work configuring the new system and getting the server support people in the U.S.A. to make the transition as smooth as possible. Sadly, for us and our customers, we had to face a couple of days where the site was down, which truly worried us in light of the credibility issues that it could present to our customers, but then we are very thankful to have the type of customers and visitors that we do.
Payment and shipping issues managed from Albania
Two major issues that continue to burden any international type of business regard a) payment options and b) shipping charges, which all tend to ultimately burden the overall process of ordering and processing orders for customers.
Offering various payment options is always best as it allows your customers to choose the best option for them. Meanwhile, security and processing time are also important issues which always have to be kept in mind.
The other issue regards international shipping rates, which are always higher compared to local ones, mainly due to the fact that books much more than other stuff.
These two issues are harder to deal with if your business is operating out of Albania. For one, the payment options are rather limited and transactional costs higher due to lack of infrastructure, competitive options and generally higher risk for a relatively young financial industry. But also international companies such as PayPal offer limited services with have become more accessible in the past one to two years. This was not so, when we started out five years ago.
With regard to shipping rates, though the national mail service – Posta Shqiptare – continues to have the most competitive rates currently on offer, the fact remains that they are limited by two factors: 1) they are set by the government, which makes it almost impossible for them to change, and 2) despite the increased volume of goods being transported mailed, the rates and reliability remain a challenge which has seen little competitive changes.
Building toward eBooks in Albanian
For us, the next obvious step is eBooks in the Albanian language. We've already set up most of the technical aspects that would make this possible. Moreover, this was a major reason for the upgrade and we are confident that it will be of great value to our customers, publishers and business onward.