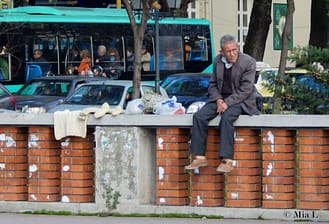 There is a friend of mine who often has a camera in her hands and takes pictures of people and things which catch her attention. Many of her pictures speak about the reality of everyday Albanians and our shared experiences.
This most recent one, which she published on Facebook pushed me to write about it so here it goes.
Here own narration says:
"Skamja ka fytyra të ndryshme.
Ky burrë ka gjetur një vend "strategjik" për të shitur çorapet dhe fanellat prej leshi e çajin e malit. Ulur mbi urë, me cigare në dorë…
Tiranë, 10 dhjetor 2014"
"Poverty has many faces. This man has found a 'strategic spot' to sell sock, wool shirts and mountain tea. Seated on the bridge, with a cigarette in hand…

Tirana, December 10, 2014"
It's pictures like this that remind me to always be thankful about where I am and what I have in life, but also of the fact that hardship is all around me and people need help.
As the end of the year approaches, please be mindful of those around you who may not have what you have or be able to enjoy this end of the year the same as you!
More pictures by Mia